Accessories
Nylon Cover, Antenna, AC Power Adapter. DC12V Car Charger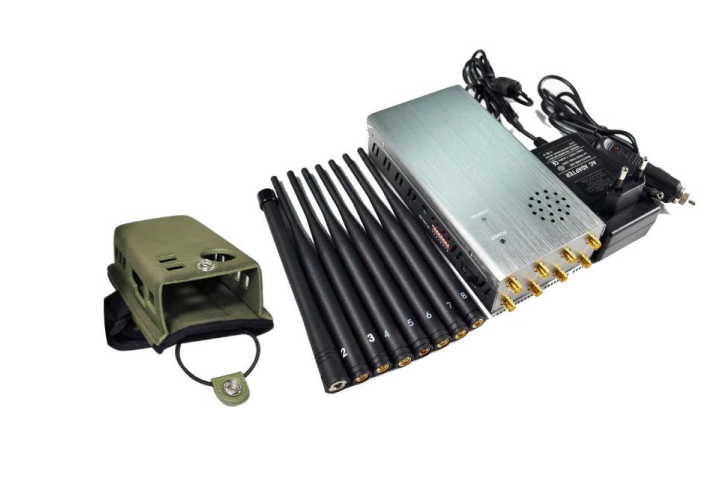 Features and Advantages Of HS-P8J
⚫ Inside cooling fans and big heat sink design ensure the device to work continuously.
⚫ With internal rechargeable battery. Simple to be replaced.
⚫ With a display to show the battery status.
⚫ With longer 2.5dbi gains omni antennas,
⚫ High-power Multi-band Handheld jammer.
⚫ It can keep working while charging.
⚫ It can last around 2.5 hours after fully charged.
⚫ Configured to block 8 different frequency bands continuously or simultaneously. Separate switch for each band with a working LED.
⚫ Could be used in car directly, with car charger and AC charger
⚫ Total RF output power is up to 5.6 watt. Asia Market

Technical Specification
Model Number:HS-P8J

Type

Output Port

Frequency

Radius Range

AsiaMarket
customized
asrequired.

CDMA800

869-894MHz

5-10M@depending on the mobileservice provider's network condition

GSM90

935960MHz

DCS1800

1805-1880Mhz

WCDMA

2110-2170MHz

LTE4G,2300

2300-2400MHz

LTE4G,1800

1805-1880Mhz

WIFl/Bluetooth|
orWIFI5.8G
orWIFI5.2G
2400-2500MHz
or57255850MHz
or5125-5350MHz

GPSL1

157542MHz

Netweightwithantennas:0.8Kg
JammerSize:156*83*48mm(no tin clu deantenna)

Total Power Consumption: Approx.30watt

Power supply:AC110-240V112VDCBuilt-in Battery:8000mAh
Cautions
⚫ Be sure to connect all the antennae before the power supply is switch on.
⚫ Try to recharge the device only once battery is run-out when you get the device in the first time.
⚫ With the increase of charging electricity, charging indication light from Red to Green is fully charged.
⚫ Don't put the jammer into the water or fire to avoid using in the bad Condition like over-wet, over-hot, high voltage and high magnetism.
⚫ Any sealed mark on the machine tore is invalid.
⚫ Antennae shall be put vertical to the ground to get more efficient jamming performance.